MMR Wheat Grain Feed Flour Grinding Roller Mill
MMR Wheat Grain Feed Flour Grinding Roller Mill
AGS

JIANGSU

30 DAYS

1000 SETS
Roller mill is the main equipment for milling section in flour mills. The wheat is stripped mainly by a pair of grinding rollers with speed difference and relative rotation and ground into flour when endosperm is peeled off from wheat bran.
MMR Roller Mill
MMR mill is high-end products, leading the future market. The contact part of material is made of food-grade 304 stainless steel, no dead angle, no residue;
Easy to flip the feeding unit, easy to clean the feeding area;
The grinding roller unit, a spin off from the grinding body assembly, convenient operation reducing paring time;
Variable speed feeding, the feed will increase to the limitation, change the feeding environment, improving the grinding quality and saving energy;
Permanent magnet synchronous motor speed control, and more efficiency than ordinary motor, cleaner;
Tooth elastic wedge band tensioning device can self-compensate the micro-change and improve the service life of the band;
The whole case iron base, higher stability of equipment.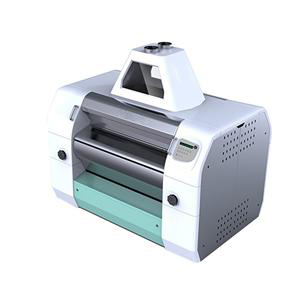 Items

Unit

Specification

Model




MMR25/1250

MMR25/1000

MMR25/800

Roll Diameter x Length

mm

∮250 x1250

∮250 x1000

∮250 x800

Diameter Range of Roll

mm

∮250--∮230

Fast Roll Speed

r/min

450-650

Gear Ratio




1.25:1 1.5:1 2:1 2.5:1

Feed Ratio




1:1 1.4:1 2:1

Half Equipped with Power

Motor




6 Grade

Power

KW

37、30、22、18.5、15、11、7.5、5.5

Main Driving Wheel

Diameter

Mm

∮360

Groove




15N(5V)Type 6Grooves 4Grooves

Working Pressure

Mpa

0.6

Dimension(L x W x H)

mm

2060x1422x1997

1810x1422x1997

16110x1422x1997

Gross Weight

kg

3800

3200

2700