Bulk Material Pneumatic Slide Gate Diverter Valves
Bulk Material Pneumatic Slide Gate Diverter Valves
AGS

JIANGSU

30 DAYS

30000 PCS
Slide gate diverter is widely applied in the grain and cooking oil processing field, fodder processing field, cement field, chemicals works, to be fitted up with the elephant trunks for grains, bean pulps, and other powdery and small-block loose materials. Its opening degree can be controlled manually or pneumatically so as to limit the flow of material. With the lock gate being closed and opened, the granule and powdery materials are fed into the transportation and lifting machinery in an orderly manner before they are fed to the next operation. The manual lock gate is good for sealing, fumigation and storage of grains.
Pneumatic Slide Gate Diverter Valves
1. The steel plate shell and lock gate rail are spliced and welded by tenons.
2. The special rail design ensures the lock gate opens and closes stably.
3. The cylinder with a magnetic switch is used for stable and reliable operations.
4. The electromagnetic valve can be adjusted to control the opening speed of the lock gate.
5. The lock gate has advanced fabrication means, simple structure, flexible technological lay-out and strong tightness.
6. Various pneumatic lock gates, butterfly valves, three-way valves etc. can be customized.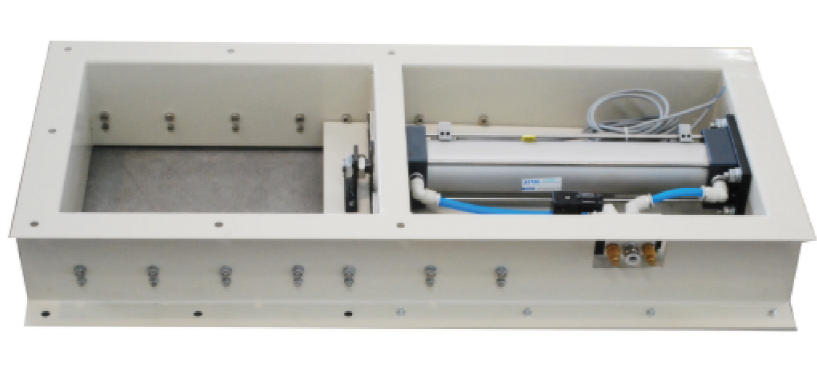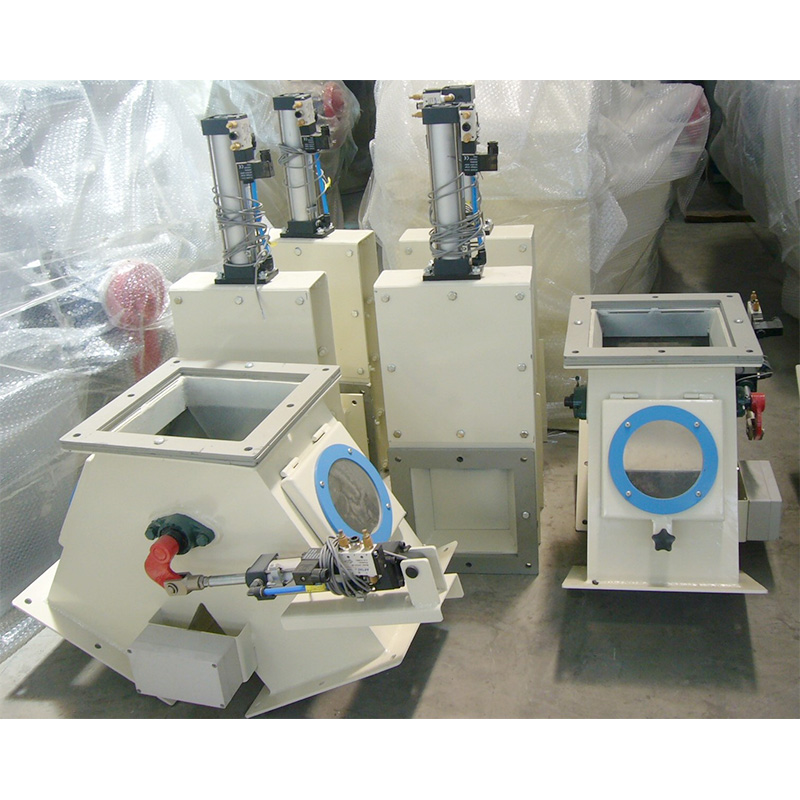 Model
Diameter of cylinder (mm)
Pressure (MPa)
Magnet switch
Theoretical thrust coefficient (N)
Theoretical thrust pressure (N)
Outline dimension (mm)
Contact capacity
TZMSQ20x20
50、80
0.4-0.6
5VA AC24V AC220V
1205、3096
1019、2793
670x345x190
TZMSQ25x25
50、80
0.4-0.6
5VA AC24V AC220V
1205、3096
1019、2793
770x395x104
TZMSQ30x30
50、80
0.4-0.6
5VA AC24V AC220V
1205、3096
1019、2793
870x445x190
TZMSQ32x32
50、80
0.4-0.6
5VA AC24V AC220V
1205、3096
1019、2793
910x465x190
TZMSQ45x20
50、80
0.4-0.6
5VA AC24V AC220V
1205、3096
1019、2793
900x515x104
TZMSQ45x25
50、80
0.4-0.6
5VA AC24V AC220V
1205、3096
1019、2793
1000x515x104
TZMSQ50x50
50、80
0.4-0.6
5VA AC24V AC220V
1205、3096
1019、2793
1330x585x252
Main specifications and technical parameters(The theoretical thrust and pressure in the table are calculated at the air pressure of 0.63 MPa.)