Rice Mill Non Crushing Processing Bucket Elevator
Rice Mill Non Crushing Processing Bucket Elevator
AGS

JIANGSU

30 DAYS

10000 SETS
TDTG Series rice mill bucket elevator is mainly used to vertical lifting of rice.
1. Bucket elevator have compact structure, small footprint.
2. Excellent sealing performance and venting of bucket elevator avoid dust explosion.
3. Optional devices for preventing the sideslip and back-stop to ensure safety and belt alignment.
4. Bucket elevator are widely used for the vertically conveying of powdery or granular bulk material in grain terminals, port terminals as well as such industries as feed, flour, rice, edible oil etc.
Rice Mill Non Crushing Processing Bucket Elevator
1. With slow speed, impact force to feed stock will be greatly decreased, thereby the broken increment in course of elevating decreasing greatly.
2. Return pulley is cage construction, with invariable loading gap, high fill coefficient, less broken increment.
3. Speed down by gearbox, with compact structure, the machine is safe, reliable, stable.
4. Equipped with automatic take up mechanism, easy to operate.
5. Sliding discharge through slideway, the machine has less returned stock, less broken increment.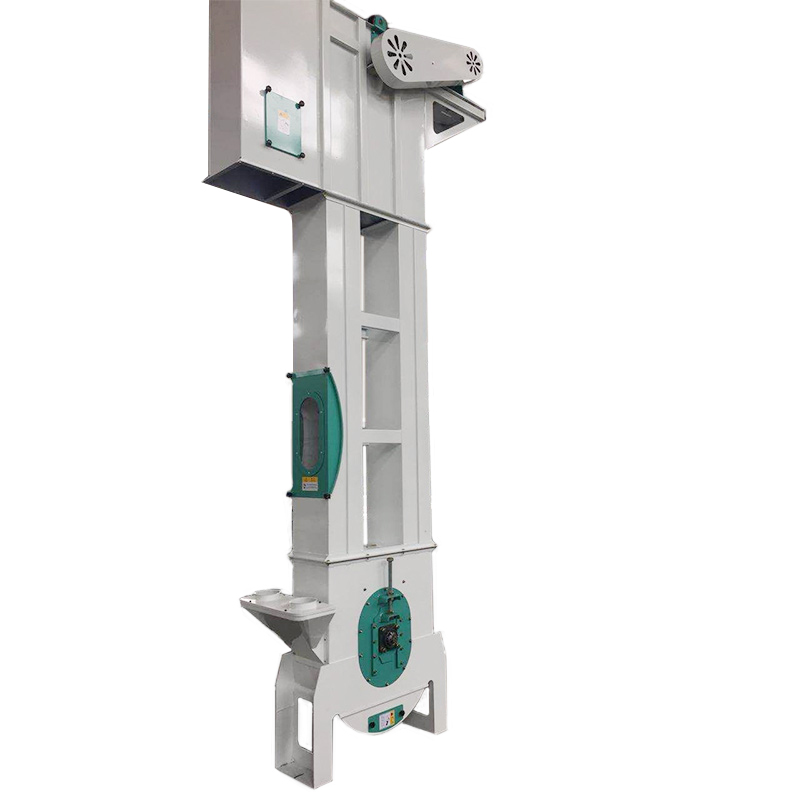 Item

Model

Head diameter (mm)

Bucket specification(mm)

Speed ratio

Bucket number per meter

Capacity(t/h)

Band width (mm)

Granular materials

Pulverous materials

Granular materials

Pulverous materials

Granular materials

Pulverous materials

Granular material

Pulverous materials

TDTG30/10

300

100X90X93

106X90X93

1:11

1:17

6

6.5

4~6

1~2

125

TDTG30/14

300

134X115X94

134X114X72

1:11

1:17

6

6.5

6~10

2~3

150

TDTG36/18

360

188X140X130

186X140X87

1:11

1:17

6

6.5

15~20

5~7.5

200

TDTG36/28

360

238X166X154

238X160X102

1:11

1:17

5

6

25~~35

6~12

250

TDTG40/18

400

188X140X130

186X140X87

1:11

1:17

5

6

18~25

4~10

200

TDTG40/28

400

280X140X139

285X143X96

1:11

1:17

5

6

38~46

10~17

300