Powder And Bulk Solids Screw Feeder Screw Conveyor
Powder And Bulk Solids Screw Feeder Screw Conveyor
AGS

JIANGSU

30 DAYS

10000 SETS
Screw conveyors for the broadest range of industrial applications, in operation across the food, animal feed and cereal, chemicals, minerals, waste recycling and pharmaceutical sectors.
1. Wide range of bulk materials can be handled, including powder, granular and block materials.
2. High transportation efficiency.
3. Reliable electrical device and mechanical safety device.
4. Flexible installation and maintenance.
5. Construction available in carbon steel, stainless steel.
6. Engineered and manufactured to meet specific customer requirements.
TLSS Spiral Conveyor
Screw conveyors or auger conveyors usually consist of a trough or tube containing either a spiral blade coiled around a shaft, driven at one end and held at the other, or a "shaftless spiral", driven at one end and free at the other. The rate of volume transfer is proportional to the rotation rate of the shaft.
In industrial control applications the device is often used as a variable rate feeder by varying the rotation rate of the shaft to deliver a measured rate or quantity of material into a process.The material feed into the casing and screw flight was hold back by the frication resistance acted on the wall of casing during running, the screw flight push the material and make the material do axial movement, simultaneity the clockwise and counterclockwise fight act as mixer.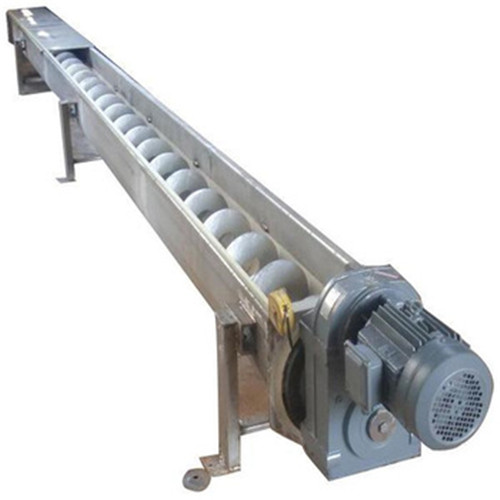 Item

Model

Diameter of Screw(mm)

Pitch(mm)

Rotating Speed(rpm)

Transport volume(T/h);

Power of Shaft Per Meter (KW/t.m)

Wheat

Flour

Wheat

Flour

TLSS16

160

130

90

3.5

1.24

0.02

0.007

TLSS20

200

160

90

6.7

2.33

0.042

0.014

TLSS25

250

200

90

13

4.55

0.08

0.028

TLSS32

320

260

90

27.9

9.69

0.17

0.06

TLSS40

400

320

90

63.6

19.63

0.33

0.115