Tubular Silo Conveyor Feeding Pipe Screw Conveyor
Tubular Silo Conveyor Feeding Pipe Screw Conveyor
AGS

JIANGSU

30 DAYS

10000 SETS
TWLL Tube Feeding Screw Conveyor is widely used in quantity pouting of flour milling and feed industry.
1. Low speed driving
2. Varying pitch screw
3. Easy maintenance
4. Standard size of the modular design
5. No material residue
TWLL Tube Feeding Screw Conveyor



TWLL tuber auger screw conveyor in flour mills and feed mills industry are mainly used quantitative feeding. Since the machine uses low-speed shaft or chain drive, variable pitch structure, and therefore has a simple structure, easy maintenance, better feeding of quantitative characteristics, greatly improved the accuracy of ingredients.
1. Standard size modular design, can be arbitrarily extended portfolio; flange connection between the cylinder and the hoop-two;
2. The newly designed auger discharge end of the tail to ensure no residual materials, doors and attempts to prevent overflow switch novel structure, beautiful;
3. chain drive design is simple and convenient and can be rotated 360 ° around the auger shaft direction, can be equipped with cycloid reducer or helical gear reducer.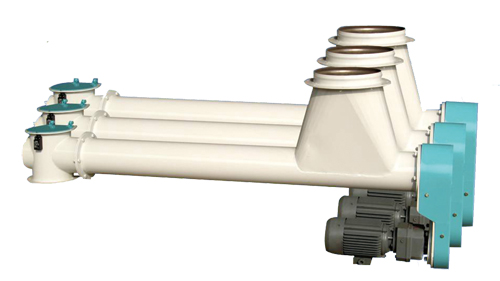 Model
ΦD
ΦD1
ΦD2
H1
H2
Lmax
TWLL16
160
300
200
400
120
12m
250
TWLL20
200
300
250
450
140
12m
500
300
TWLL25
250
500
300
450
180
12m
600
500
TWLL32
320
500
400
500
220
12m
600
600
TWLL38
380
500
450
500
260
12m
600
500
600