Vacuum Powder Pellet Handling‎ Plug Diverting Valve
Vacuum Powder Pellet Handling‎ Plug Diverting Valve
AGS

JIANGSU

30 DAYS

10000 SETS
THFX COCK Valve(Two-way Valve) is a pneumatic conveying system in the device for switching the direction of the material. It is widely used in flour, bran, starch, grain, feed, sugar, chemical products, plastics and other powder materials
1. Using lost wax casting metal film
2. Flexible rotation of the spool in the valve body
3. No leakage
THFX COCK Valve(Two-way Valve)
THFX cock valve (two-way valve) is a pneumatic conveying system in the device for switching the direction of the material. It allows the pipe material change in the flow state transport direction without interrupting the gas supply and stop feeding the material to the two selected locations. If several valves combination of many materials can be sent to selected locations, the operation is very convenient to use. Change is widely used in flour, bran, starch, grain, feed, sugar, chemical products, plastics and other materials are vacuum conveying powder and low transport pipeline conveying direction, so that the material sent to the selected location.
1. All castings using lost wax casting metal film, body angle 60 °. Material: Body, spool with QT600-3 ductile iron, valve covers, flanges ZG25 steel, processed by the aging heat treatment, welding flange and the pipe is good, cylinder bearing non-magnetic aluminum castings;
2. To ensure the rotation of the spool in the valve body is not flexible and does not leak string, with bearings and seal rings triangle F4 cover, O-rings, two-way valve is in space and down, left and right, can be installed before use.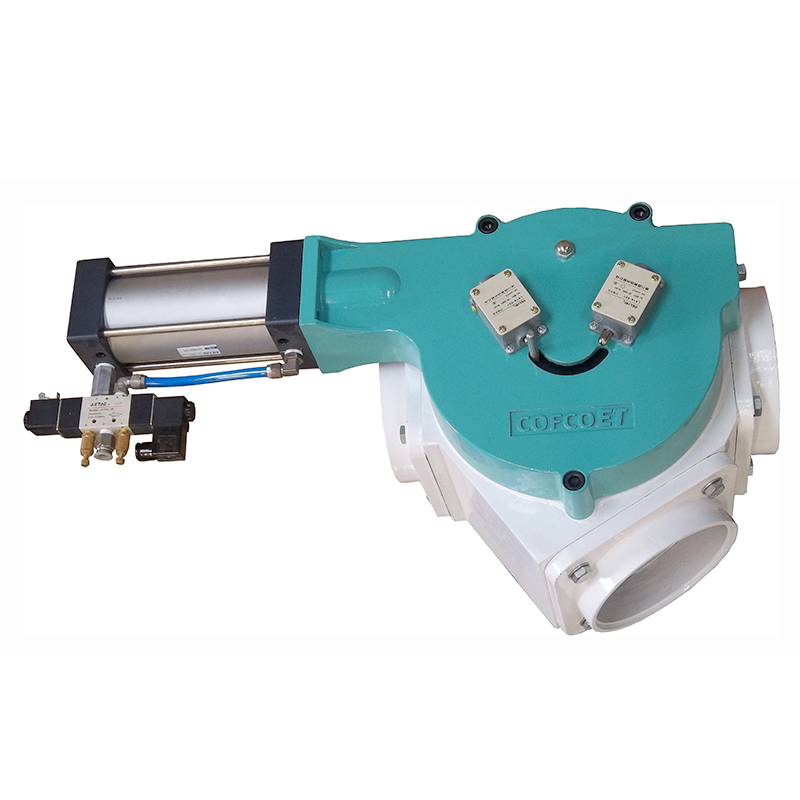 Specification
DN(mm)
Duct
bifurcation


angle
Heat
Temperature


(℃)
Body work pressure(kPa)
Cylinder
Suction
Pressure feed
Low transport)
Diameter/
Stroke
(mm)
Working
Pressure


(Mpa)
THFX6.5x2
65
50°

60°


Two angles


for users
to

choose
100
50
100
400
50/100
0.4-0.6
THFX8x2
80
50/100
THFX10x2
100
63/100
THFX12x2
125
80/125
THFX15x2
150
100/125
THFX18x2
175
100/125