WORLD FLOUR MARKET AND TRADE
23-03-2020
Rise in urban and modern lifestyle has increased the demand for various types of flours. Factors such as population growth, increasing disposable incomes, rising consumption of bakery products and changing lifestyles have further added to the global demand for flour. According to the International Grains Council, cross-border flour trade will reach a total of 15 million 880 thousand tons in 2019/20 season, with an increase of 1 percent.
Flour is one of the oldest and most effective forms of food known to mankind. It makes up a significant percentage of energy intake globally. Flour is a staple that serves as an excellent source of energy for people around the world, though the source and form of the flour may vary across regions. Wheat, maize, and rice serve as the most common sources of flour though the production of wheat flour remains the highest. Flour is a relatively economical solution to significant proportions of the world's population as compared to other staples. Flour forms an inevitable part of the modern-day processed food segment. It is the basis of most baked goods, snacks, extruded products such as noodles, pasta, and wafers – products that occupy a major portion of the retail shelf. Flour – wheat and maize, primarily, but also local varieties depending on regional crops – is one of the most widely distributed and consumed staple food products. In fact, more than 600 million metric tons of wheat and maize flours are milled annually and consumed as noodles, bread, pasta, and other flour products worldwide.
In our last issue for 2019, we want to give you an insight into the world flour market and trade. The International Grains Council (IGC), the only international organization producing information on processed products, including wheat flour trade, provides accurate market data. According to the wheat flour export figures by countries released by IGC, there has been a contraction of 1 million tons of flour trade in 2018/19 season between the countries corresponding to 8% in the previous season. Only a small part of this is expected to recover in 2019/20. According to the estimations, cross-border flour trade will reach a total of 15 million 880 thousand tons with an increase of 1 percent.
There is no sign that Argentina which fell from 1 million 3 thousand tons down to 876 thousand tons in the 2018/19 season will offset this loss. IGC's 2019/20 season forecast for the country 875 thousand tons.
Looking at Egypt's exports, unstable figures and sharp ups and downs are noteworthy. Wheat exports, which increased by 79% to 931 thousand tons last year, are expected to decrease by 35% down to 600 thousand this season.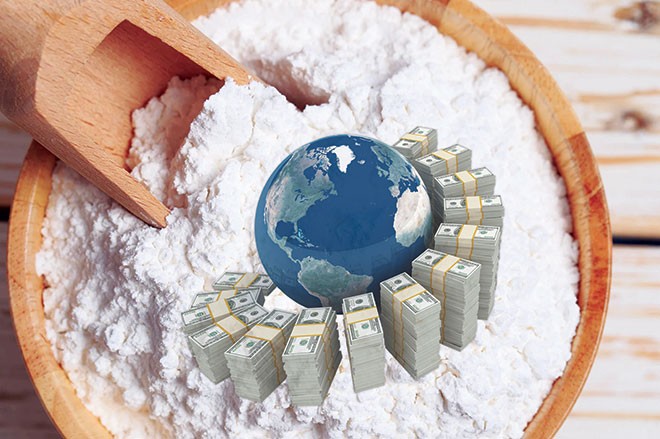 EU countries seem to offset a small part of their 23-percent-loss they experienced last year. According to the statistics of the UK-based institution, the export figures that decreased from 831 thousand to 639 thousand tons last year will be 650 in the 2019/20 season.
The decrease in the export volume of Kazakhstan, one of the top countries that come to the mind when it comes to wheat and flour, will continue this season. According to the forecasts, although the last year's negative acceleration of 19-percent-loss eases down, the country's flour exports will continue to fall this season by 7%. Accordingly, the export of the Central Asian country in the 2019/20 season will be 2 million 500 thousand tons.
Russia, world's number one wheat exporter, will sustain its dynamism in the flour market in the 2019/20 season. The flour export volume which reached 395 thousand tons with an increase of 11 percent last year is projected to get at 420 thousand with an increase of 6 percent this year.
According to the figures, the world champion in flour exports, Turkey will offset the tiny contraction it experienced last year. In the 2018/19 season, the country decreased by 1.4% down to 4 million 628 thousand tons and the export volume of the country in this season is expected to reach 4 million 750 thousand tons. Turkey has been the world's top flour exporter for the last six years, and it exports flour to over 100 countries. Last year, Turkey exported nearly 3.5 million tons of flour or nearly one-third of the world's total flour exports.
Ukraine, another major wheat producer, will try to dress the wounds of last year's 30% contraction crisis with a growth rate of 19%. According to the released report, the Black Sea country will sell 500 thousand tons of flour to the world this season.
According to ResearchAndMarkets's report, the global wheat flour market reached a consumption volume of 385 million tons in 2018, registering a CAGR of 1.3% during 2011-2018. The consumption volume of wheat flour will reach nearly 411 million tons by 2024. The rise in population coupled with per capita income has increased the demand for flour, which has further raised the production of flour. Change from traditional to urban and modern lifestyles of consumers has increased the demand for various types of flours in the preparation of fast food items. Furthermore, a rise in health concerns for high-protein flour provides an impetus for flour millers to produce gluten-free flour alternatives. Change in taste and preference of consumers, as well as dietary concerns for manufacturers to develop differentiated products, have impacted the overall sales. "Moreover, the development of the flour milling industry in the high-growth developing regions of the world such as the Asia Pacific, the Middle East, and Africa are significantly contributing to the growth and expansion of the global market for flour and downstream products, such as bakery and confectionery." point outs Beste Yildiz, Senior Consultant at Farrelly & Mitchell.